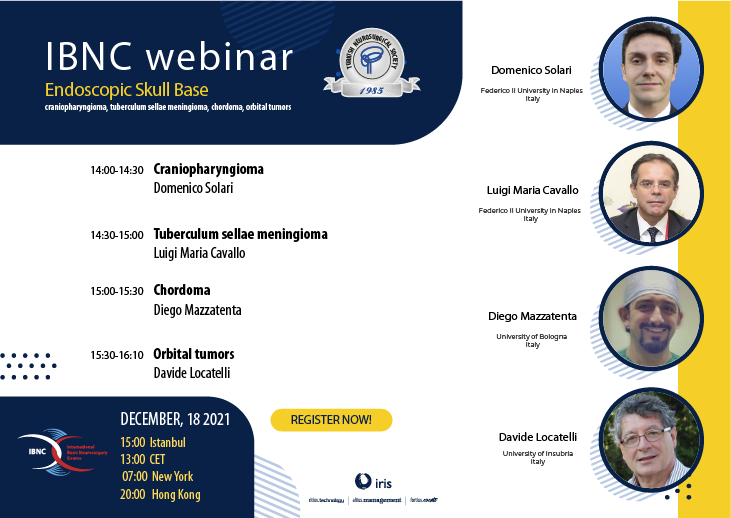 Dear Colleagues
It is our great pleasure and honor to announce IBNC Webinar (IX) "Endoscopic skull base" section of this basic course in few rounds.
The second round will be held on December 18, 2021 (13.00 CET, 07.00 New York, 15.00 İstanbul)
which is mainly about parasellar tumors with 4 basic topics: craniopharyngioma, tuberculum sellae meningioma, chordoma and orbital tumors.
First topic will be covered by Dr. Solari from Federico II University in Naples, he will present "Craniopharyngioma", also Dr. Cavallo from Federico II University in Naples will present "Tuberculum sellae meningioma",
then Dr. Mazzatenta from University of Bologna , will present "Chordoma"
finally, Dr.Locatelli from university of İnsubria in Varese, will present "Orbital tumors".
We are thankful to Domenico Solari MD., Luigi Maria Cavallo MD., Diego Mazzatenta MD.,
and Davide Locatelli MD., for their support and contribution to International Basic Neurosurgery Course and global neurosurgical education.
I look forward to your participation in this unique webinar where all of our knowledge will be updated.
We are sure you will enjoy and learn a lot in this IBNC Webinar.
Please save the date and join us.
Mustafa Berker M.D., Ph.D.
IBNC president
Head of Department
Hacettepe University
Faculty of Medicine
Department of Neurosurgery
Ankara – Turkey